Jardin français is a non-profit organization, created in 2014, that offers French lessons to French Olim children, as well as a series of cultural activities (cinema, literature, etc) to promote Israeli culture among French Olim Hadashim and French culture among Israelis.
Our objective is to support Olim integration by creating bonds between olim and sabarim via cultural activities, and helping children maintain and develop a cultural identity.
French Lessons
Since 2013, hundreds of children have learned how to read and write French in our classes. Classes are given in small groups of students with a similar level. Most of the children are between 6 and 12 years old. But we also offer specific classes for 5 years old and High School, as well as adults.
Our teachers are exclusively French native speakers and graduated from National Education in France or Israel. They bring extensive experience and a true passion for their mission into the class. The lesson is more than a language-teaching class, the children also get familiar with the French culture, have fun and discover a large panel of activities like theatre, poetry, singing, and more.
If you are interested in French lessons for children or adults, please click here English Form
Cultural Activities
Our organization offers a series of cultural activities intended to help olim hadashim discover the Israeli culture as well as promote the French culture in Israel.
Koolnoa is a new initiative that allows to discover the best French movies and Israeli movies via private projection on large screen.
Every month our committee selects one of the best movie – award winning or cult movies –  either Israeli or French by alternance, and with subtitles. Most often speakers will present the movie and help the audience decrypt the movie and its impact on the audience.
If you wish to hear about our activities, please click here English Form
The team
The founders of this organization are two mothers, Isabelle and Yohanna, who were willing to teach their kids how to read French in a collective, fun yet focused environment. They've hired teachers and spoken about their project to their friends… until dozens of children showed up at the first lesson. Since then, they've been volunteering to help structure the organization and develop its activities.
The organization has since then established a Committee of volunteering Olim – either hadashim or vatikim –  who develop and realize new initiatives such as Koolnoa.
The spirit of the team is to support integration of new immigrants into the Israeli society, by on the one hand giving the Olim the keys to discover and understand the Israeli culture and increase opportunities to share with Sabarim, while on the other hand bringing the best of their birth country culture and language to Israel.
We are always very happy to consider new initiatives and if you have any suggestion or want to volunteer in our organization, please feel free to reach out.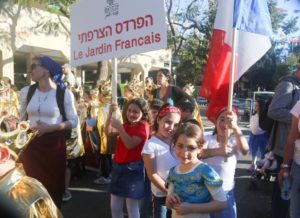 Contact us
If you want to contact us, please write to isabelle.yohanna@jardinfrancais.org